TWINE COLLECTION & RECYCLING SITE (TCRS)
Located on two acres of leased Montana State Public Land, the Twine Collection & Recycling Site (TCRS) opened to the public in June 2019. The TCRS is located 2 miles north of Laurel on Buffalo Trail Road across the highway from the Laurel Container Site just north of Laurel Airport Road. This was made possible because of generous donations from the Harry L. Willett Foundation, Patagonia and individuals.                                                                                                                                                           
A map can found here. The current hours of operation are:   
May through October – 8 AM to 2 PM on the 2nd and 4th Friday/Saturday of each month, weather permitting.
November through March – leave a message at 406-591-8606 and we will return the call to arrange a drop off time.
Volunteers will be on hand to assist as needed. For large loads of twine, please call in advance and a tractor will be ready to assist you with the unloading. Like all recycled plastics, the twine needs to be at least 90% clean. We are not accepting net wrap or mesh since some types are not recyclable and it is one of the most difficult plastics to clean due to the hay fibers, soil and rocks that become embedded in the plastic.
Since the refund payment for recycled twine is expected to only cover the shipping fees, additional grants and donations are needed annually to cover business and maintenance expenses. The TCRS is still in need of funds to purchase and install sliding doors on the storage shed and to hire Republic Recycling's twine collection services at one or two of the local stockyards in Billings.
Tables and booths providing information at local events are an important part of this project. If you would like to become involved, contact Deb at debregele@gmail.com or Doreen at rdzlhman@bresnan.net.
If you would like to make a tax deductible donation to the TCRS, it can be mailed to Yellowstone Valley Audubon Society, P.O. Box 1075, Billings, MT 59103. Please indicate the purpose of your donation since we have several worthy projects. Donations and additional information can also be made through PayPal and at Go Fund Me at https://www.gofundme.com/ospreys-need-your-help. YVAS is a registered non-profit 501(c)(3) organization.
WHY RECYCLE TWINE?
To truly reduce the amount of loose polypropylene baling twine in the environment, a volunteer effort is needed by everyone. Baling twine should be recycled for four important reasons: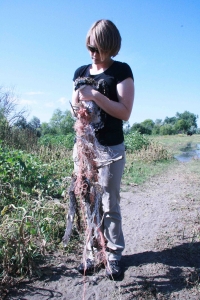 Baling twine is a polypropylene #5 PP plastic. It is a nonrenewable resource that can and should be recycled, same as #1 water and soda bottles and #2 milk jugs. #5 PP is recycled outdoor pots and tubs. Other recycled products include food containers such as margarine, yogurt and deli containers. It is also used for winter clothing insulation.

Loose uncontained twine can cause injury, suffering and sometimes death by entanglement for birds (especially Ospreys), wildlife and livestock. Ospreys have an affinity for twine and incorporate it into their nests where the nestlings and adults can become entangled. Without human intervention, the birds most certainly would die. Canada Geese ingest twine and sometimes die. Livestock ingest twine. Deer and antelope are seen every year with masses of twine or net wrap on their antlers and horns making it difficult for them to see, eat or defend against predators. In 2018, two bull elk had their antlers entangled together and had to be euthanized by MT Fish, Wildlife and Parks officers.

Twine dangling from Osprey nests on utility poles can cause costly power outages and can lead to wildfires.

It is a nuisance for highway mowing and field equipment causing costly breakdowns.